After stacking the invitations and insert cards, I tied them with raffia and attached a starfish charm that I found on etsy.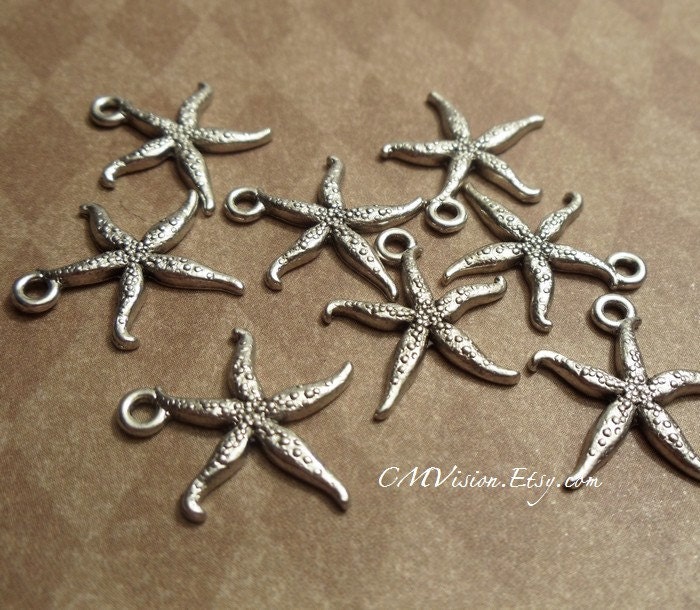 The cards were put in white inner envelopes, before they were put in the aqua outer envelopes. Those envelopes were the bane of my existence!
I ordered teal RSVP (size) and white inner (Size A7) euro flap envelopes from
Paper and More
. When I saw they were delivered on December 24 and I wouldn't be back to my house until January 2, I was a little worried. Turns out I should have been worried because the envelopes were gone from our porch when we arrived home. After some back and forth with the paper company and UPS, I received a new box of envelopes and was able to start working on the invitations.
The aqua outer envelopes were ordered from Paper Presentation in NYC.
I ordered a return address stamp from
My Clear Stamps
on Etsy. This took a while to arrive, but I use it on EVERY piece of mail I send now. It is so much prettier than return address labels. If I could do it again, I would have picked a font that was more legible when stamped.
If you do not have the Michaels app for your iPhone, get it! I've been able to get 40% off coupons each week, which has been so nice when I need to grab craft supplies! I was able to snag the embossing gun for about $12.
I used clear embossing powder on top of teal ink for the return address on the aqua envelops and silver ink and silver embossing powder to pre-address the RSVP envelopes. The process is pretty easy. Stamp the desired location with your stamp, cover it with embossing powder, remove the excess, then heat the image with the embossing gun, and watch the magic happen. I would stamp and apply powder to 10 at a time, them line them up and apply heat.
For the outer envelope, I used a trick from
Project Wedding
. I wanted the look of calligraphy, actually, I wanted the same font on the invitation to be used to address the envelopes. I downloaded the font and formatted a Powerpoint slide in the size of the envelopes, typed in each name and address and printed them at 50% opacity. After that, I simply traced over the printed font with a silver uni-ball pen (found at Michaels). It gave the handwritten look without the headache (well, after I formatted the envelopes in Power Point)
The invitations were 5 x 7 with an information enclosure, an RSVP card (with a regular stamp) tied with raffia and a small starfish charm, in an inner and outer envelope and they cost
$.85
$.86 to mail. They went out the week that postage went up, so I was adding one cent stamps to them at the post office. Our post offices in Charleston had not received any of the new postage as of February 1.
Price Breakdown (shipping and mailing costs are NOT included)
Design from EncreStudios................................$50.00
CatPrint (60) sheets on white linen....................$127.98
100 teal RSVP envelopes..................................$19.99
100 White inner envelopes................................$11.99
75 aqua outer envelopes....................................$25.00 *Hand delivered were not in outer envelopes
starfish charms..................................................$11.96
raffia (4 oz)........................................................$2.00
total: $248.98
total per invitation: $3.11 for 80 invitations.